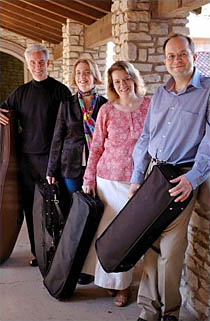 Established in 1990 by Victor Koszman (violinist) and Sondra Jones (violinist), the Stradivarius String Quartet is a vibrant classical ensemble dedicated to providing the Dallas-Fort Worth metroplex with the best variety and quality in string quartet music.
Dedication
Members of the Stradivarius String Quartet know each other from schools, summer music festivals, and most play in the Dallas Opera Orchestra. We enjoy a special chemistry as both musicians and friends. Our obvious enthusiasm for making music together, combined with our vitality and professionalism, is the key to ensuring that our clients and their guests derive the maximum enjoyment from our performances.
Due to our great love of chamber music, we maintain a strong desire to share its wonders with our listeners, a characteristic that our clients can both see and feel in the quality of our music making and in the obvious joy we take in the act of connection. With insightful performances and intellectual rigor, our ensemble approaches both classical and contemporary repertoire with equal mastery and enthusiasm.
Professionalism
Drawn from the country's best music programs, our individual members have between them a wealth of experience within the classical music field. All members of the Stradivarius String Quartet are highly skilled, fully qualified professional musicians who hold either a Bachelor or Master degree in music performance and are dedicated to providing you with a completely satisfying musical experience for any occasion.
Service
The Stradivarius String Quartet specializes in creating the perfect musical scenery for social events by integrating cherished traditions with unique musical selections. Some of the functions for which we play include weddings, receptions, banquets, corporate functions, formal dinners, private parties, conferences, conventions, and product launches. No event is too small or too large.
We are delighted to offer personal service to all of our clients. Every occasion is unique, and we enjoy the challenge of suiting the music and ambience to the individual client and location. We feel that the client is an integral part of the process, and through infinite attention to detail, we strive to ensure that our clients are completely delighted.
Inspiration
The Stradivarius String Quartet takes its name from the famed violinmaker, Antonio Stradivari. Born in Cremona, Italy in 1644, Stradivari experimented with the design of string instruments and, assisted by his two sons, perfected the Cremona type of violin. His interpretation of geometry and design for the violin has served as a conceptual model for violinmakers for more than 300 years. Of the approximately 1100 instruments that Stradivari made, about 650 still exist.
Antonio Stradivari's name represents the highest quality of craftmanship, artistry, and skill of violin making. This is the standard that we apply to our own performances and offer to our clients in quality and level of service.